Testimonials From Clients
Testimonials, Maidmans Moving and Storage Ltd have established a reputation for a friendly, efficient and above all a professional service. Our team are trained and have experience of a wide range of challenges that are faced when our assist clients move home, store their goods or shred their confidential papers.
Maidmans Moving and Storage Ltd have teamed up with ReferenceLine to collect testimonials from our customers and publish the testimonials on their own website which ensures the testimonials are independent.
The testimonials shown on this page are not choosen by us but are added from Referenceline as we receive them.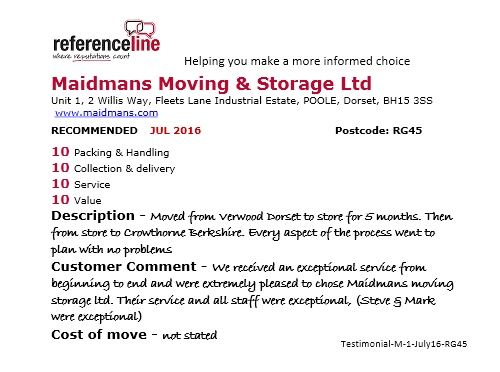 Maidmans moving and storage are industry leading professionals, offering high quality home moves along with exceptional customer care to clients moving to or from the Bournemouth Poole and surrounding area. Why not request a home visit? A home visit will provide you with the most accurate quotation and is a service offered free of charge with no obligation by Maidmans winners of Domestic Mover of the Year 2013-14.
When considering business moves within the Dorset Wiltshire and Hampshire area, Maidmans moving and storage based in Poole should be your first choice. Finalist for the Commercial Mover of the Year in 2013-14 we have years of experience working with a variety of small medium and large companies. Maidmans offers a full facilities management service to handle your removal requirements and relocate your business quickly and efficiently.
Maidmans storage solutions are rated as highly by clients as the moving side of our business. You may only need short term storage or maybe you would like to free up some space in your home or business premises Maidmans should be your first call. Our secure warehouse is part of a network nationwide of secure warehouses.
Maidmans secure shredding expertise works hand in hand with businesses in offering a complete archive/shred/recycle package as we adapt to a changing economy where companies downsize or de-clutter and use space more profitably. For many organisations, the secure destruction of paperwork is an audit requirement, so we ensure our customers adhere to the Data Protection Act (1988).