Are you looking for a removals company in Weymouth?
Maidmans have been in the removals industry for over 40 years, winning multiple awards from the British Association of Removers (BAR) over the past decade; including the prestigious Domestic Mover of the Year.
Based in Poole, Maidmans is the removals company of choice for the area. We not only offer outstanding services, but our expert local knowledge means our services will be above and beyond those of our competitors.
Serving cities, towns and villages throughout Dorset, including Weymouth, Dorchester and Poole, Maidmans' are to here to help.
Whether you're moving down the road, to a beautiful chalet in Europe, or even halfway across the world; we are here to take the stress out of your move.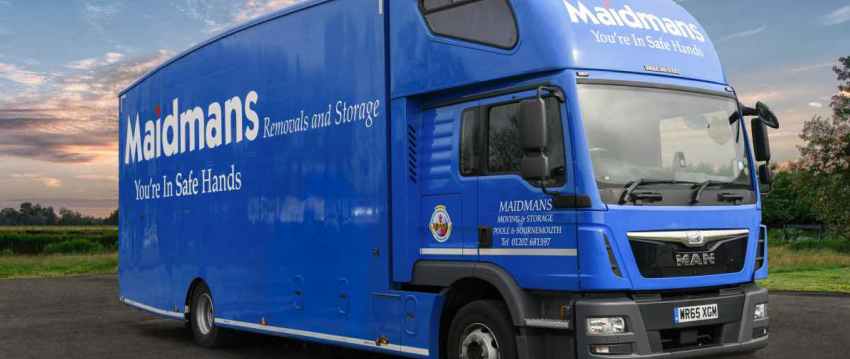 Why Choose Maidmans for Removals to Poole?
Maidmans are the 'go-to' choice for removals throughout Dorset, bringing you a friendly team who will give your move that personal touch.
Our expert team will be available to answer any questions you may have about the removal throughout the entire process.
You will be using the UK's first company to attain all three BSI quality standards for domestic removals, commercial removals and storage. On top of that, we have 40 years of experience; we go the extra mile!
Are you worried about your valuables during the moving process? Worry no more. Our team will protectively wrap your possessions with a bespoke range of packing materials, ensuring they are protected throughout the move.
Move to Weymouth Today
Moving to Weymouth will create mean there a whole new range of opportunities and activities will be open for you to take part in. With plenty of fossils to be found and surfing to be had, here are just some of the great benefits of moving to Weymouth:
• Known as one of the gems of the Jurassic shoreline, Weymouth is home to over 70,000 people and is the third-largest settlement in Dorset.
• In 2017, Weymouth was voted Britain's best beach on Tripadvisor, based solely on reviews from those who have visited Weymouth beach.
• Weymouth is home to incredible events all-year-round, from seafood festivals to beach volleyball competitions.
• Nothe Fort and its incredibly complex network of underground passages are a must-see when in Weymouth.
• Weymouth is surrounded by Areas of Outstanding Natural Beauty, creating many a great day out for all the family.
Weymouth was first noted in history in the 13th century as an established seaport. It quickly became a borough after this and trade flourished. In the 16th Century, Weymouth and Melcombe Regis were united, creating the Weymouth we know today.
Presently, Weymouth is primarily a tourist resort, which quietens down in the winter; creating a busy summer and a peaceful winter.
With excellent road links from the A345 and trains to Waterloo, Weymouth offers the best of both worlds.
After moving here, you will quickly realise just how much history Weymouth contains. A short walk along Weymouth's historic harbour will give you just an idea of how deeply rooted history is here.
If you're looking for incredible summers, endless activities, incredibly rich history and year-round events, Weymouth could be the place for you.
Weymouth Property Prices
There are currently plenty of property developments occurring in Weymouth, such as Lorton Park, expansions on Curtis Way and Eden Park by JunoDev.
The average house price in Weymouth is currently £ 278,260. This is way under the average for the county of Dorset, meaning you can really grab a bargain here in Weymouth. In the past 12 months, the property market has slightly decreased. This could be the best time to purchase your dream property here in Weymouth.
In terms of property types, flats in Weymouth sold for an average of £189,678 and terraced houses for £227,640 – Statistics according to Zoopla estimates, February 2020.
Weymouth Schools
A vast choice of primary schools are available to you, with the best in the area being Beechcroft St Pauls CofE Primary School; Holy Trinity Church of England VC Primary School & Community Nursery and St Augustine's Catholic Primary School. All of these schools received a 'Good' rating from Ofsted.
This being said, you're choice of school is mostly to be dependant on where you live, and you will likely have to be within a given radius to be accepted to any of these schools.When it comes to secondary schools, the majority of parents aim to get their children into The Thomas Hardye School.
This school is for both boys and girls and received an 'outstanding' from Ofsted as per there last inspection.
With over 2000 pupils, this school is well staffed and well equipped to deal with all educational needs that your child may have.
For more information on schools in Weymouth, visit the government website here: Weymouth and Portland area schools
Things To Do In Weymouth
Whether you're moving with your family or you're moving for work, Weymouth has plenty to offer you in your spare time.
If you've been looking for a reason to cycle, Weymouth is the place for you. It is a beautiful way to take in everything that Weymouth has to offer. With 6 to 17 mile trails, there are plenty of different routes you can take, depending on your expertise.
If you're looking for a calmer way to experience Weymouth, head over to the Weymouth RSPB reserve. This reserve offers you the chance to become engulfed by nature (in a good way), and even participate in events to learn more about the birds that reside in this stunning reserve.
Let's not forget, the Weymouth Sealife Adventure Park and the Jurassic Shoreline are also brilliant days out for the family.
Weymouth is a mixture of history, nature and beauty all rolled into one town; so what are you waiting for?